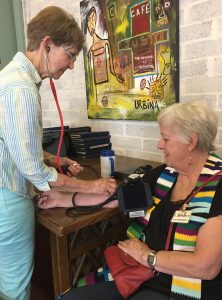 Our Health Ministry Team assists members of the St. Mark's faith community in maintaining or regaining wholeness of body, mind, and spirit. Home, hospital, or care facility visits are available.
Services Provided
Health Education: Provides information for individuals of all ages and the congregation.
Health Counseling: Assists in clarifying health interventions.
Community Liaison: Serves as a "link" or "bridge" to community health and social agencies providing services, which may benefit our congregational members and neighborhood.
Advocacy and Assistance with Referrals and Continued Care: When ongoing care is required, the parish nurses will assist in identifying the best type of care and options for obtaining needed care.
Integration of Faith: The team serves the congregation with concept of wellness (health) promotion consistent with the individual's faith.
Contact Information
Please call the church office (520-325-1001) for an appointment to ensure availability.
Email: stmarksaz@gmail.com
Additional Information
Blood Pressure Screenings are held the second Sunday of the month from September through May.
First Aid Boxes have been placed throughout the church campus.