St. Mark's Presbyterian Church – The Rev. Bart Smith
The 26th Sunday after Pentecost (November 13, 2016)
Isaiah 6:1-8 – "Holy"
In the year that King Uzziah died, I saw the Lord sitting on a throne, high and lofty; and the hem of his robe filled the temple. Seraphs were in attendance above him; each had six wings: with two they covered their faces, and with two they covered their feet, and with two they flew. And one called to another and said:
"Holy, holy, holy is the Lord of hosts;
the whole earth is full of his glory."
The pivots on the thresholds shook at the voices of those who called, and the house filled with smoke. And I said: "Woe is me! I am lost, for I am a man of unclean lips, and I live among a people of unclean lips; yet my eyes have seen the King, the Lord of hosts!"
Then one of the seraphs flew to me, holding a live coal that had been taken from the altar with a pair of tongs. The seraph touched my mouth with it and said: "Now that this has touched your lips, your guilt has departed and your sin is blotted out." Then I heard the voice of the Lord saying, "Whom shall I send, and who will go for us?" And I said, "Here am I; send me!"
---
"In the year that King Uzziah died…"
It's important to note that the prophet Isaiah's vision occurs in a particular moment in history. King Uzziah was a good king by most measures. Wise, just, faithful. He had a decent five decades in office and the country prospered under his leadership. You could describe the known world's state of affairs as tense and foreboding, especially for the nation of Judah. The Assyrian army, known for their advanced weaponry and tactics of psychological warfare, was encroaching, and Jerusalem wasn't well-defended. And, as if it wasn't bad enough, then Uzziah died. It seemed like Judah was about to go down in flames.
Have you ever felt like your country was going down in flames?
Drawing parallels between 8th Century Judah and 21st Century United States of America is tricky, of course, because the two are very different times and places. For one thing, Judah was a tiny country. But the point is that people were afraid and the political outlook was bleak, to say the least. "In the year that King Uzziah died…" is how this text begins. It rekindled for its original hearers a sense of dread because political instability was on the horizon.
"Political instability," though, doesn't begin to cover what I have felt this week. I still am reeling from Tuesday night. I feel sad. I am angry. I feel bewildered. I am tempted to despair. I have to speak in the first person here because this is just so raw, and I can't speak for anybody else.
The best word I can put to what I feel, though, is grief. I am grieving. A lot of people still are and will be for some time because the sense of loss is profound. And when I think about what the "new normal" could be over the next four years or more, my mind races with dark possibilities, and I start to feel panicked. "Ambient dread" is another term I've used to describe it. It's the fear of a strongman assuming power. It's a fear of ratification of all the hatred spewed during the campaign. It's the sense of losing what could have been in a different, historic presidency.
President-elect Donald Trump. Let that sink in…
And even with all those feelings, I am painfully aware that I occupy a position of immense privilege. Whatever campaign promises the President-elect follows through on, I'm probably not going to suffer nearly as many of the consequences as people who are already marginalized in this country, groups that were directly targeted during the campaign. I am not an African-American, a Guatemalan immigrant, Somali refugee, or someone who has insurance because of the Affordable Care Act, but who may lose coverage in 2017. I am not a woman whose reproductive rights or health-care might be under siege. I am not a differently-abled person who was mocked on national television. People are afraid of the hatred this campaign has stirred up. Let me tell you, the stories I've heard this week of families fleeing the country, kids being bullied, lesbian and gay couples being harassed, and others being the victims of violence is horrifying! Makes me sick to my stomach.
There's a Google Doc floating around right now, the "O [Crap]! What Should I Do Before January Guide." I'm not kidding! It's a collaborative document that's worth taking a look at because it details what to do if you're in any number of vulnerable populations who might be affected by significant changes in federal policy come January. The document is so long, it's astonishing. And it's tragic.
"In the year that King Uzziah died…"
I've read this Isaiah story before. I've known that it was written in a time of exile and political calamity. But I've never felt that in this way before. Isaiah has this fantastical vision of God's sovereign majesty in the midst of an incredibly fear-filled, uncertain future. And I've craved to see such a vision myself, to feel that somehow God is still in control of this mess. I guess I'm envious of Isaiah. I want to catch a glimpse of God's radiant glory washing over the earth, God's presence filling the temple. I want to taste God's holiness so I can trust that everything will be OK.
"In the year that King Uzziah died…"
Isaiah cries: "Woe is me! I am lost, for I am a person of unclean lips, and I live among a people of unclean lips!" In my most mature moments, I think, "What am I missing? How am I living in a bubble? What's behind the fear of my friends and relatives who voted for the other candidate?" But then… then, through my own unclean lips, I want to yell, "I'm living among a people of unclean lips. What in the world has possessed this country?! Has (slightly less than) half the electorate gone mad?!"
And like Isaiah, I don't feel up to the task. I know this is the time for the Church of Jesus Christ to rise up and live into our calling to be a prophetic force—see last week's sermon—but still, I feel inadequate. This is going to be hard! Our calling to "do justice, love kindness, and walk humbly with God" (Micah 6:8) is the same this Sunday as it was the last, but the stakes are different and, I'm afraid, the costs are higher. We don't know yet precisely how we will be called to stand with the oppressed, to surround those who are frightened, to put our necks on the line for those who will be persecuted or scapegoated.
But did you catch what happens to Isaiah? He is made holy and sent out to do God's work.
Yes, he is unclean, like everybody else. Yes, he shares the guilt for what is happening in his own country. Yes, maybe he's not the most qualified to speak a prophetic word. Yes, he may be just one person. But, the thing is, he's called to it. God purifies and equips him for it. In the midst of turmoil, Isaiah hears God's voice and responds, "Here I am. Send me!"
So this is my prayer for us today: that we, too, would hear God's voice, even if it's in a whisper. That we would remember that no, we are not perfect, but we are God's people. We are never sent out empty handed. We are never alone in what we're called to do. The Lord God of Hosts goes with us!
We have to remember that the Jesus movement was born in struggle for a more just world. In continuity with the Hebrew prophetic tradition, Christ's proclamation, "The Kingdom of God is near" was a threat to the political establishment. His ministry of healing, teaching, and including was revolutionary. And throughout time, even though the church has colluded with empires in disastrous ways, there have always been pockets of resistance that dared to embody that Kingdom by practicing love for neighbor, even when it was costly.
One may even argue that the Church is at its best when it is on the margins and not at the center of the power structure.
What we said at the rally on Monday and the prayer vigil on Wednesday, "We Stand With Love," still applies. We will love our neighbors as ourselves, not treat them as expendable. We will love our vulnerable neighbors by taking stands against injustice. As this post on Instagram put it: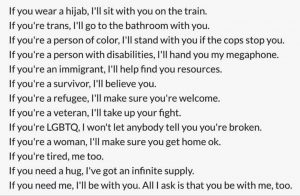 Friends, I choose believe that God is love, and God is sovereign. I choose to believe that, while love might appear weak at times, it is the ultimate power in this world. And it is to that love that we owe our ultimate allegiance, in any regime.
You know, Jesus never said following his way of love would be easy. He did say, however, "I am with you always." And he repeated the admonition found throughout scripture almost 100 times, "Do not be afraid."
The English poet, W.H. Auden, who later became an American citizen, penned these words:
Defenseless under the night
Our world in stupor lies;
Yet, dotted everywhere,
Ironic points of light
Flash out wherever the Just
Exchange their messages:
May I, composed like them
Of Eros and of dust,
Beleaguered by the same
Negation and despair,
Show an affirming flame.
Let us be that affirming flame.
To that end, may we catch a vision of God's holiness today, God's perfect love.
May God give us courage, loosen our lips, and send us out to be the force for justice and peace this nation needs at this moment.
And may we respond to the call of the Holy One as Isaiah did, "Here I am. Send me!"