Purpose Statement
Jesus Christ calls us to be a joyful community that celebrates God's love, transforms lives and is a force for justice in the world.
Identity Statement
We engage our faith in God with open hearts and minds. Powerful prophetic preaching, worship that is spiritually fulfilling, and stimulating education enrich our personal lives and energize our witness to the wider world.
We are a faith community that is willing to take risks for progress on social justice. Since the founding of St. Mark's we have embraced advocacy on behalf of civil rights, all-day kindergarten, shelter for vulnerable women and children, the Sanctuary Movement, justice and safety for immigrants, and the full inclusion of LGBTQ people in the life of the church and society. Our commitment to justice is in our DNA.
We are part of the Presbytery de Cristo, the Synod of the Southwest, and the Presbyterian Church USA.
Characteristics of St. Mark's Presbyterian Church
 We are More Light

From Our Pastor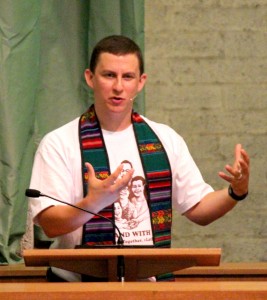 Do Justice, Love Kindness and Walk Humbly with Our God
Warm greetings to you and welcome! There are many things that people look for in a church. Some are searching for a vibrant worship experience and strong Biblical preaching. Many want to make a difference by joining with other people of faith who are working for peace and justice in the world. Some are looking for the safe and stimulating environment of a church family in which to raise their own family. Some simply desire to be a part of a warm, caring community where they are known and accepted for who they are. Others say that they need a stimulating intellectual environment where education in the faith is a lifelong opportunity and challenge. If these are the characteristics of the church you are looking for, your search is over. Consider this your invitation to come and experience life at St. Mark's. We will welcome you in our midst. And you will be glad you came.
---
Our Programs
---
Donations allow St. Mark's to continue our work
within the Tucson community and the broader world.
---